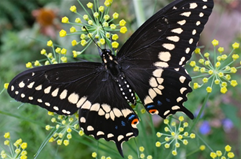 RANDALL COUNTY MASTER GARDENERS
Rue (Ruta graveolens)
An Overlooked, Underused Herb
By Andi Wardlaw, Master Gardener
"In ancient times, Rue was an important culinary and medicinal herb. Rue was a common cooking herb for the Romans and commonly used in a spicy seasoning paste that contained garlic, hard cheese, coriander, and celery seeds with Rue leaves. The botanical, Latin name of "Ruta" comes from Greek, translated as "to set free," referring to its use as a chief ingredient in mixtures used as antidotes to poisoning.
It was a common herb believed to keep away witches, and that folk use evolved into the Catholic Church's practice of dipping branches of rue into Holy water and sprinkling it over the heads of parishioners as a blessing, which earned it a common name for the plant of "herb of grace."
Domesticated Rue should not be mistaken for African Rue which was an introduced, deep-rooted, perennial plant in the Caltrop family (plants with spiked seed casings). The forage value of this plant is poor for livestock and wildlife, and the plant is extremely unpalatable, poisonous to livestock and is consumed only when animals are starving. This plant has become an invasive plant in parts of the country and difficult to eradicate.
Domesticated Rue has fallen out of use in today's cooking primarily because our taste preferences and choices have changed. In the past, the use of an herb that imparted a bitter undertone to a dish, balancing the sweet, sour, salty, and hot flavors was important, but it is less so today. In today's world culinary selections are endless therefore what was commonly used in the past can be replaced with tastes more individually suited to a palate.  Occasionally you'll still find Rue used in Italian dishes, mostly among Old Italian families that have passed down recipes through generations of cooks.
It's most commonly used today in Ethiopia as both a cooking herb and an addition to coffee. Both the leaf and the seed, are an important addition to brewing a pot of traditional Ethiopian coffee. Due to the plants low use as a culinary herb, Rue has fallen out of grace in the garden. Thus, this has become the forgotten herb.
This heirloom herb remains virtually unchanged since ancient times. There has been no hybridizing or even selecting out strains of the plant. What you grow in your garden will be a direct descendant of the same plant found growing in its native habitat of the Mediterranean region and parts of Western Asia.
Rue's fragrance is aromatic and bittersweet, which some people find unpleasant, and the raw leaves have a very mild numbing effect on the tongue. The fresh leaves are less strong than the dried leaves, and the seeds have a slight hotness, too.
While there are many folk medicine and homeopathic uses for Rue, most current medical resources caution against using the herb. The primary reason appears to be the danger of using too much.
If for no other reason, grow Rue as a favored host plant for both the Black Swallowtail and the Giant Swallowtail butterfly caterpillars. As with other host plants, the "guests" will feast on the plant and at times leave the plant devoid of many leaves. However, this is well worth the naked looking plant, which won't look sparse for long, since the plant is quick to rebound. With natural wildlife habitats on the decline it is important to incorporate host plants in the garden.
Rue (Ruta graveolens) is an evergreen herb or small shrub with bluish-green leaves. The plant has a clumping habit, growing to 20-30 inches tall. It does best in full to part sun, with at least 6 to 7 hours of sunlight per day, and well-drained soil. It will even thrive in extremely dry conditions once established, but over-watering will kill the plant. It's hardy from upper Zone 6 and warmer. There's no need to fertilize the plant, it's perfectly happy in very poor soil. Growing this underused plant is as simple as starting from seed, placing cuttings in damp soil or by starting cuttings in water. Be aware that Rue seeds can, but not always, have a tendency to be slow to sprout.
Rue is a perennial that has a life span of 5-6 years; however, I have had the same rue plants in the garden for almost ten years. The plants are pruned down to 3-4 inches in late winter and within a couple of weeks the plants look strong and healthy.
Although some winters we have hard freezes that can last several days Rue stands its ground. A long-lasting hard freeze can make the plant droopy, but as soon as the temperatures warm, the plant perks back up.
Knowing that this herb is evergreen in our area gives it a wider potential for use in the garden. Think outside the box and instead of planting this usual evergreen shrub as an accent plant, consider a border using Rue. Remember it is very drought tolerant and evergreen making this a great addition to the garden for winter interest. As with many strong-smelling plants deer and rabbits leave it alone.
While it can reseed itself, it's seldom invasive and can be controlled by simply snipping off the seed heads after it blooms. Consider letting the flowers go to seed to share with friends or starting plants in other areas of the garden.
The one thing to be careful of is that it can cause a skin allergy in sensitive people. This usually only happens on hot, sunny days when a person is sweaty while handling Rue in the sun. Rue has gotten a bad reputation because of its potential for contact dermatitis. Cautions, while sincere, are considerably over-stated. Personally, I have never had a reaction to Rue, but do be aware of a possible reaction. If in doubt about a reaction, consider wearing gloves or working with the plant during the cool morning or evening hours.
Overall, I give Rue a 10 rating. As far as plants go, it's about as perfect as a plant can be, it has beautiful foliage, stays green year around, thrives on neglect, drought tolerant, versatile and isn't bothered by disease', pests, deer and rabbits. Now that is what I call a great plant.
References:
Aggie Horticulture
Gardening Links from Aggie Horticulture